This recipe yields approximately 1 ½ quarts of soup, and it's very flexible. If you don't have squash, carrots make an excellent substitute. Apple is optional.  The refined version below calls for straining the soup and finishing it with heavy cream, though for day-to-day use, I recommend skipping both, upping the fiber content, lowering the fat content, and making this a Guiding Stars 1-star recipe. Skipping the straining will also result in a larger yield. Serve with a light salad of mixed greens tossed with the Avocado Vinaigrette found in Guiding Stars' recipe section
Ingredients
3 medium leeks, white part only, coarsely chopped
2 large celery stocks, coarsely chopped
1 cup tart apple, peeled, cored, diced into ½" cubes (measure after chopping)
1 large russet potato, peeled and chopped into 1" cubes
4 cups butternut squash, peeled and chopped into 1" cubes (measure after chopping)
1 tsp. Madras curry powder
1/4t. cinnamon
1 small bay leaf
½ teaspoon fine sea salt
1 ½ quarts vegetable stock
2T. maple syrup
2T. fresh-squeezed orange juice
½ cup heavy cream or evaporated skim milk (optional)
2T. olive oil
Salt and pepper to taste
Directions
1. In a heavy-bottomed 6-quart pot, sauté the leeks, celery, apple and 1/2 teaspoon salt in the olive oil over medium heat until softened, about 8 minutes.
2. Add the curry powder, cinnamon, and bay leaf and stir until the spices become fragrant, about 1 minute. Add the squash, potato, and stock, stir and bring to the boil, then reduce the heat to medium-low and simmer, covered, for 25-30 minutes, or until the potato crumbles when pressed with a fork.
3. Remove from the heat, fish out the bay leaf and discard. Using an immersion blender or a regular blender (working in small batches), puree the soup until completely smooth.
4. Strain the soup through a fine mesh strainer, taking care not to push the fibrous solids through the mesh. Return the soup to the stove and return it to a light simmer to reduce until the soup will lightly coat the back of a spoon.
5. Remove from the heat and stir in the maple syrup, the optional evaporated skim milk, a dash of pepper, and the fresh orange juice. Taste for seasoning and adjust if necessary. A bit of crumbled bacon and chive sprinkled over the soup before service is a nice touch, and many—including Anthony Bourdain—choose to drizzle a little extra maple syrup as well.
Nutrition Facts
6 servings per container
Serving Size 478G
Amount per serving
Calories

205

% Daily Value*
Total Fat

5g

6%
Saturated Fat

0.5g

3%
Trans Fat

0g

Polyunsaturated Fat 0.5g
Monounsaturated Fat 3.5g
Cholesterol

0mg

0%
Sodium

355mg

15%
Total Carbohydrate

40g

15%
Dietary Fiber

5g

18%
Total Sugars

13g

Includes 4g Added Sugars
8%
Sugar Alcohol 0g
Other Carbohydrate 22g
Protein

3g

Vitamin D 0mcg
0%
Calcium 115mg
8%
Iron 2.6mg
15%
Potassium 750mg
15%
Vitamin A 537.4mcg
60%
Vitamin C 32.4mcg
35%
Vitamin E 2.6mg
20%
Vitamin K 30.5mcg
25%
Thiamin 0.2mg
15%
Riboflavin 0.2mg
15%
Niacin 2.4mg
15%
Vitamin B6 0.5mg
30%
Folate 69.5mcg
17%
Vitamin B12 0mcg
0%
Biotin 0.9mcg
4%
Chloride 26.3mg
2%
Pantothenate 0.7mg
20%
Phosphorus 88mg
8%
Iodine 0.1mcg
0%
Magnesium 63.8mg
15%
Zinc 0.5mg
10%
Selenium 1.4mcg
2%
Copper 0.2mg
20%
Manganese 0.8mg
35%
Chromium 0.5mcg
0%
Molybdenum 7.6mcg
20%
* The % Daily Value (DV) tells you how much a nutrient in a serving of food contributes to a daily diet. 2,000 calories a day is used for general nutrition advice.
Ingredients
Low Sodium Vegetable Broth (filtered Water, Organic Carrots, Organic Tomatoes, Organic Celery, Organic Onions, Organic Garlic, Organic Leeks, Sea Salt, Organic Bay Leaves, Organic Parsley, Organic Thyme), Butternut Squash, Potatoes, Leeks, Apples, Celery, Maple Syrup, Orange Juice, Olive Oil, Salt, Curry Powder (spices, Turmeric, Garlic, Silicon Dioxide), Ground Cinnamon, Bay Leaf.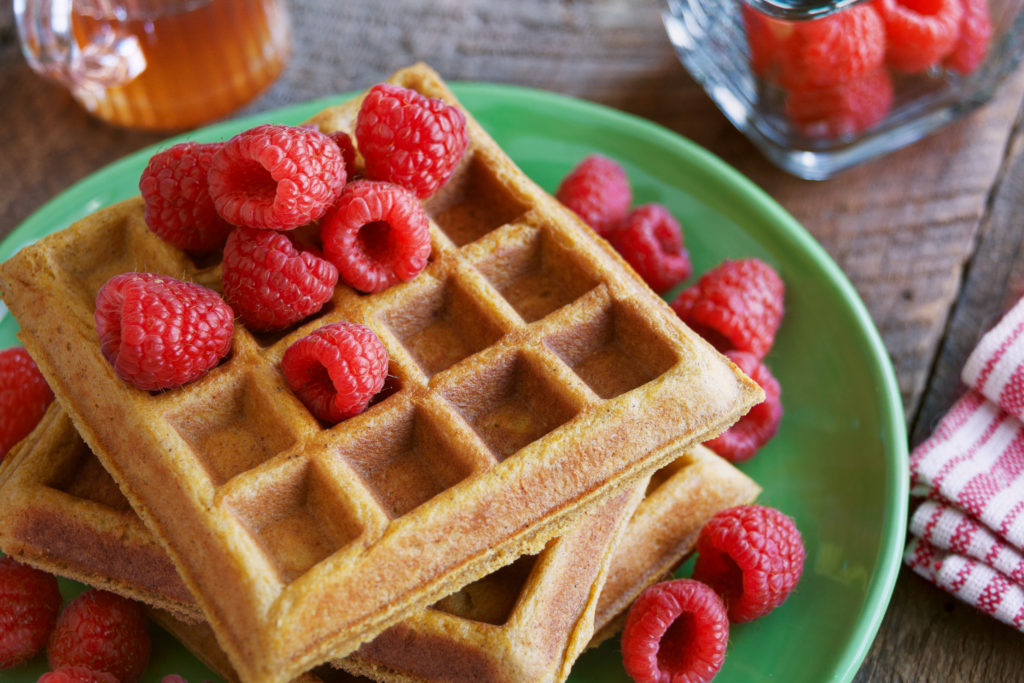 Even if brunch is closer to lunchtime for you, few of us are eager to roll out of bed before the sun to start cooking for a host of people. Fortunately, there's a host of options for offloading most of the workload onto the night before so you can sleep in and serve your guests an incredible meal too.