Whip up a quick batch of this crust-less quiche for your next breakfast meeting or brunch. Your friends will thank you for bringing a gluten-free, vegetarian option that tastes this good.
Ingredients
2 T. olive oil, divided
1 sm. onion, diced
2 c. mushrooms, sliced
4 cloves garlic, minced
1 red pepper, diced
2 c. kale leaves, shredded
2 lg. eggs
1/2 c. silken tofu
1 c. skim milk
1/4 t. salt
Fresh ground pepper to taste
Directions
1. Preheat oven to 375º F. Grease a 9-inch pie dish with half of olive oil.
2. Heat remaining oil in a large saute pan. Add the onions and cook until translucent.
3. Add mushrooms and cook until they have released their liquid and it has evaporated.
4. Add garlic and red pepper. Cook until garlic is soft. Stir in kale and remove from heat.
5. Separately, whisk eggs until light and fluffy. Whisk in the tofu, milk, salt and pepper.
6. Spread the vegetables in the baking dish and top with egg mixture.
7. Bake 30-35 minutes, until edges are beginning to crisp and center is nearly firm.
Nutrition Facts
6 servings per container
Serving Size 143G
Amount per serving
Calories

110

% Daily Value*
Total Fat

7g

9%
Saturated Fat

1.5g

8%
Trans Fat

0g

Polyunsaturated Fat 1g
Monounsaturated Fat 4g
Cholesterol

63mg

22%
Sodium

145mg

6%
Total Carbohydrate

7g

3%
Dietary Fiber

1g

4%
Total Sugars

4g

Includes 0g Added Sugars
0%
Sugar Alcohol 0g
Other Carbohydrate 1g
Protein

6g

Vitamin D 0.9mcg
6%
Calcium 89.8mg
6%
Iron 0.8mg
6%
Potassium 255mg
6%
Vitamin A 109.3mcg
10%
Vitamin C 33.7mcg
40%
Vitamin E 1.2mg
6%
Vitamin K 41.4mcg
35%
Thiamin 0.1mg
8%
Riboflavin 0.3mg
25%
Niacin 2.1mg
15%
Vitamin B6 0.2mg
10%
Folate 32.8mcg
8%
Vitamin B12 0.4mcg
15%
Biotin 8.3mcg
25%
Chloride 94.4mg
4%
Pantothenate 0.8mg
20%
Phosphorus 110.8mg
8%
Iodine 19.4mcg
15%
Magnesium 15.1mg
4%
Zinc 0.6mg
10%
Selenium 9mcg
15%
Copper 0.2mg
20%
Manganese 0.1mg
4%
Chromium 0.1mcg
0%
Molybdenum 6.7mcg
15%
* The % Daily Value (DV) tells you how much a nutrient in a serving of food contributes to a daily diet. 2,000 calories a day is used for general nutrition advice.
Ingredients
Skim Milk, Mushrooms, Red Bell Pepper, Silken Tofu (water, Whole Soybeans, Calcium Sulfate, Magnesium Chloride), Eggs, Onion, Kale, Olive Oil, Garlic, Salt.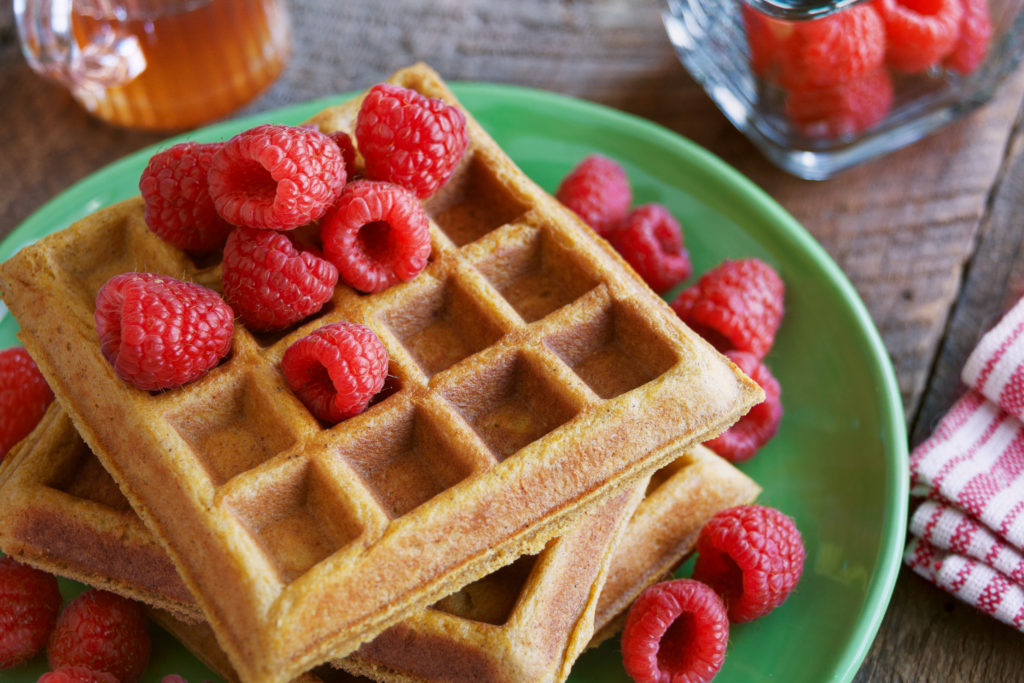 Even if brunch is closer to lunchtime for you, few of us are eager to roll out of bed before the sun to start cooking for a host of people. Fortunately, there's a host of options for offloading most of the workload onto the night before so you can sleep in and serve your guests an incredible meal too.