Ginger, cilantro, and garam masala flavor these tasty cakes. Serve on a bed of greens or in a wrap with the masala sauce serving as a dressing.
Tip: Buckwheat flour is used in many gluten-free recipes. If you can't find it, Millet flour is a good gluten-free replacement and whole wheat flour is fine if you don't need to worry about gluten.
Ingredients
Lentil Cakes:

1 cup red lentils
½ onion, chopped
1 Tbsp. grated ginger
1 Tbsp. cilantro
2 tsp. garam masala
¼ cup buckwheat flour
1 egg
¼ tsp. salt

Masala Sauce:

½ onion, minced
1 cup low-sodium tomato sauce
½ cup skim milk
½ cup plain, low-fat yogurt
Pinch of cinnamon
Pinch of turmeric
2 tsp. cilantro
Directions
Place the lentils and onion into a pot and cover with water. Bring to a boil and simmer until tender (20-25 minutes).
Drain the lentils and onions. Puree in a food processor while still warm. Add the remaining lentil cake ingredients and pulse until the rest of the ingredients are combined into the mix (3-4 pulses). Let sit until the mixture can hold its shape (5-10 minutes).
Divide the mix into eight balls. Coat a skillet with cooking spray and heat over medium-high heat. Flatten each ball into a cake and fry until brown on both sides (3-4 minutes per side). Remove to a plate in a warm oven.
In the same pan, sauté onion for the sauce until tender (4-5 minutes). Stir in the rest of the sauce ingredients, bring to a boil, and simmer until the sauce comes together (8-10 minutes). Serve the cakes warm with the sauce.
Nutrition Facts
8 servings per container
Serving Size 108 g
Amount per serving
Calories

145

% Daily Value*
Total Fat

2.5g

3%
Saturated Fat

0.5g

0%
Trans Fat

0g

Polyunsaturated Fat 0.5g
Monounsaturated Fat 0.5g
Cholesterol

25mg

8%
Sodium

130mg

6%
Total Carbohydrate

23g

8%
Dietary Fiber

3.5g

11%
Total Sugars

4g

Includes 0g Added Sugars
0%
Sugar Alcohol 0g
Other Carbohydrate 3g
Protein

9g

Vitamin D 0.3mcg
0%
Calcium 73.4mg
6%
Iron 2.3mg
10%
Potassium 275mg
6%
Vitamin A 56.7mcg
6%
Vitamin C 3.4mg
4%
Vitamin E 0.1mg
0%
Vitamin K 1mcg
0%
Thiamin 0.2mg
15%
Riboflavin 0.1mg
8%
Niacin 2mg
15%
Vitamin B6 0.2mg
10%
Folate 59.2mcg
15%
Vitamin B12 0.2mcg
8%
Biotin 2.5mcg
6%
Chloride 51.7mg
2%
Pantothenate 0.4mg
0%
Phosphorus 137.5mg
10%
Iodine 12.7mcg
8%
Magnesium 30.4mg
8%
Zinc 1.3mg
10%
Selenium 3.2mcg
6%
Copper 0.4mg
35%
Manganese 0.5mg
20%
Chromium 0mcg
0%
Molybdenum 3.1mcg
6%
* The % Daily Value (DV) tells you how much a nutrient in a serving of food contributes to a daily diet. 2,000 calories a day is used for general nutrition advice.
Ingredients
Low Sodium Tomato Sauce (whole Tomatoes, Onions, Olive Oil, Basil, Salt, Garlic, Spices), Red Lentils, Plain Lowfat Yogurt (cultured Pasteurized Lowfat Milk, Whey Protein Concentrate, Nonfat Milk Solids, And Whey), Skim Milk, Onion, Eggs, Buckwheat Flour, Ginger, Garam Masala (coriander, Cumin, Nigilla (mangrile), Fennel, Fenugreek, Cloves, Cinnamon, Cardamom, Spices, Salt), Cilantro, Salt, Ground Cinnamon, Turmeric.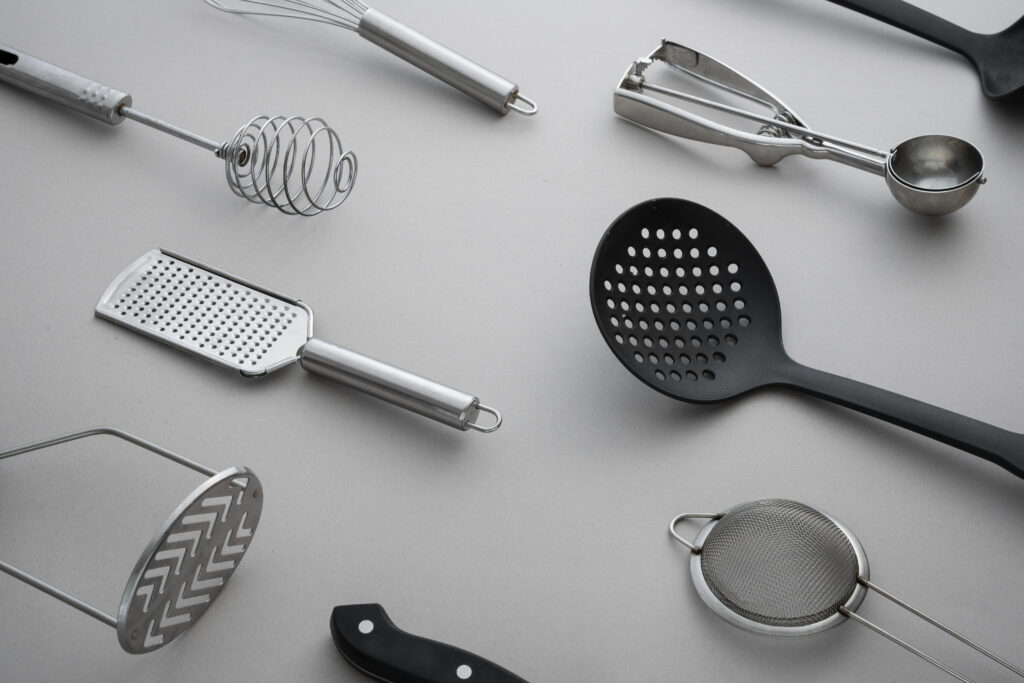 Check out these five handy kitchen gadgets that'll level-up your culinary game, and also make excellent holiday gifts.