Time Saved. Time Savored.
Guiding Stars is the fast & easy way to make nutritious choices. Use our ratings as you shop to save time, helping you get back to the things — and people — who matter most.
Guiding Stars is the fast & easy way to make nutritious choices. Use our ratings as you shop to save time, helping you get back to the things —and people—who matter most.
Backed by science.
Built for speed.
Guiding Stars' patented formula is built on trusted science so you can feel confident you are making a nutritious choice for your family. Simply look for these nutrition guidance icons to make quick, easy choices as you shop.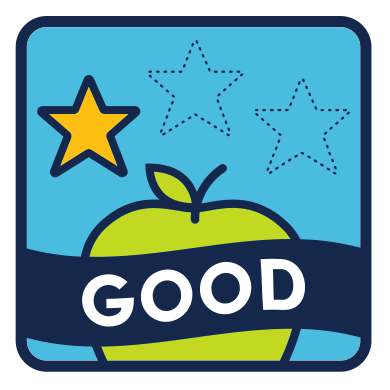 One Star
GOOD Nutrition
Two Stars
BETTER Nutrition
Three Stars
BEST Nutrition
The faster way to eat better
Look
for Guiding Stars when you shop.
Choose
nutritious products easily in the store and online.
Savor
the time you save with those who matter most.
---
Where to look
in grocery stores
Guiding Stars can be found on shelf tags, prepared food labels and store-brand packaging in participating grocery stores. It can also be found on store websites to guide online shoppers to nutritious options.
Online
On Shelf
On Pack
How it works
Guiding Stars helps you easily choose foods and recipes with the most nutrition.
We read nutrition labels so you don't have to.

We analyze how nutritious a food is, looking for:

More

Vitamins
Minerals
Fiber
Whole Grains
Omega-3s

Less

Saturated Fat
Trans Fat
Added Sodium
Added Sugars
Artificial Colors

You choose foods that earn stars to improve your nutrition.

= Good Nutrition

= Better Nutrition

= Best Nutrition

Interested in how we evaluate food? Learn more about the science behind Guiding Stars.
Find Star-worthy ingredients
Search for any of hundreds of thousands foods and beverages in the Guiding Stars database and view the specific star nutrition rating for that product.
Read our Blog
For seasonal meal ideas, cooking tips, nutrition guidance and more, check out our blog.
National Family Meals Month

Shifting schedules and time constraints impact the frequency of family meals. Let's change that for National Family Meals Month.

Lessons From the Garden

Insights about issues that come up with home gardening, and how we handled them (or didn't).

National Fruit & Veggies Month

September is National Fruit and Veggies Month, a time to celebrate plants and highlight their many benefits.
Frequently Asked Questions
Wondering more about how Guiding Stars works and how it can help you? Check out some of our most asked questions.
What criteria are considered for assigning stars to individual foods?
Are the Guiding Stars criteria the same for all foods in the store?
If a food product does not have a star, is it a bad food?
Do three-starred products cost more?
Does buying only starred foods guarantee a healthy diet?
How do regular versions sometimes earn more stars than low-fat or diet versions of a food?