Time Saved. Time Savored.
Guiding Stars is the fast & easy way to make nutritious choices. Use our ratings as you shop to save time, helping you get back to the things — and people — who matter most.
Guiding Stars is the fast & easy way to make nutritious choices. Use our ratings as you shop to save time, helping you get back to the things —and people—who matter most.
Backed by science.
Built for speed.
Guiding Stars' patented formula is built on trusted science so you can feel confident you are making a nutritious choice for your family. Simply look for these nutrition guidance icons to make quick, easy choices as you shop.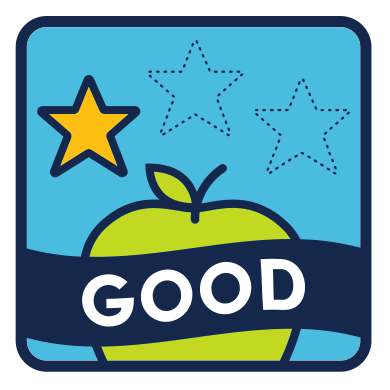 One Star
GOOD Nutrition
Two Stars
BETTER Nutrition
Three Stars
BEST Nutrition
The faster way to eat better
Look
for Guiding Stars when you shop.
Choose
nutritious products easily in the store and online.
Savor
the time you save with those who matter most.
---
Where to look
in grocery stores
Guiding Stars can be found on shelf tags, prepared food labels and store-brand packaging in participating grocery stores. It can also be found on store websites to guide online shoppers to nutritious options.
Online
On Shelf
On Pack
How it works
Guiding Stars helps you easily choose foods and recipes with the most nutrition.
We read nutrition labels so you don't have to.

We analyze how nutritious a food is, looking for:

More

Vitamins
Minerals
Fiber
Whole Grains
Omega-3s

Less

Saturated Fat
Trans Fat
Added Sodium
Added Sugars
Artificial Colors

You choose foods that earn stars to improve your nutrition.

= Good Nutrition

= Better Nutrition

= Best Nutrition

Interested in how we evaluate food? Learn more about the science behind Guiding Stars.
Find Star-worthy ingredients
Search for any of hundreds of thousands foods and beverages in the Guiding Stars database and view the specific star nutrition rating for that product.
Read our Blog
For seasonal meal ideas, cooking tips, nutrition guidance and more, check out our blog.
Frequently Asked Questions
Wondering more about how Guiding Stars works and how it can help you? Check out some of our most asked questions.
What criteria are considered for assigning stars to individual foods?
The Guiding Stars algorithm evaluates products using a variety of nutrients found on the Nutrition Facts label and ingredient list. For foods that are not labeled, such as meats, fruits, seafood, and vegetables, the program uses information obtained from the USDA's National Nutrient Database (SR-28). Foods that earn stars contain higher amounts of vitamins and minerals, dietary fiber, omega-3 fatty acids, DHA and EPA, and whole grains and lower amounts of saturated fat, added sugars, added sodium, trans fat, and artificial colors.
Are the Guiding Stars criteria the same for all foods in the store?
Most foods and beverages are rated with a general algorithm. However, meats, poultry, seafood, dairy and nuts are naturally higher in fats and, with the exception of nuts, do not contain dietary fiber. Hence a separate algorithm which recognizes these natural differences is used to evaluate these food categories. There is also a different algorithm for fats and oils and a separate algorithm for baby and toddler foods.
If a food product does not have a star, is it a bad food?
Guiding Stars does not rank foods as "good" or "bad." Simply stated, foods with stars deliver more nutrients per calorie or more "bang for your buck". Eating more nutrient-dense foods is important for almost everyone, especially for individuals limiting calories to control weight.
If the product or shelf tag has no stars, it simply means one of the following:
The food item does not meet the nutritional criteria to receive a Guiding Star.
The food item has five calories or less per serving.
The food item has not yet been evaluated. The GS team needs to capture the product data and complete the evaluation process for this item.
The item is a baby formula, alcohol, dietary supplement and/or medical food, all of which are not rated by the Guiding Stars program.
Do three-starred products cost more?
Guiding Stars is a completely independent assessment of the nutritional quality of foods and beverages. Guiding Stars is not influenced by price, brand or manufacturer and the star rating does not influence pricing at retail clients.
Does buying only starred foods guarantee a healthy diet?
No, but buying and eating nutrient-dense foods is a great start for a healthy lifestyle. Other factors including portion size, food preparation techniques, variety, balance, fitness, weight and health status all help to define an individual's healthy diet.
How do regular versions sometimes earn more stars than low-fat or diet versions of a food?
Although the algorithm debits for saturated fat and trans fat, it does not debit for total fat so this can explain why some full fat products receive stars. Although the total fat is high, it is mainly heart-healthy unsaturated fat. In some cases, a product's low fat counterpart may receive fewer stars because manufacturers may add sugar or salt for taste in the 'low-fat' version. In keeping with current evidence, Guiding Stars evaluates fat quality rather than fat quantity.