Ingredients
4 cups of Cascadian Farm Organic Frozen Corn, cooked and cooled
1/4 cup fresh cilantro, chopped
1 Tbsp. lime juice
1/2 cup Cabot Lowfat Plain Greek Yogurt
1 tsp. McCormick Chili Powder (or cayenne)
1 Avocado, diced
2 oz. Cotija cheese, finely crumbled (or Parmesan cheese)
Salt & Pepper to taste; if desired
Directions
1) In a large bowl, combine cooled corn, cilantro, lime juice, yogurt, and chili powder until mixed-well.
2) Gently stir in diced avocado and top with cheese, an additional sprinkle of chili powder and garnish with fresh cilantro. Serve warm or chilled.
Nutrition Facts
6 servings per container
Serving Size 162G
Amount per serving
Calories

195

% Daily Value*
Total Fat

9.5g

12%
Saturated Fat

2.5g

13%
Trans Fat

0g

Polyunsaturated Fat 1.5g
Monounsaturated Fat 4.5g
Cholesterol

11mg

3%
Sodium

210mg

9%
Total Carbohydrate

24g

9%
Dietary Fiber

4.5g

14%
Total Sugars

7g

Includes 0g Added Sugars
0%
Sugar Alcohol 0g
Other Carbohydrate 12g
Protein

8g

Vitamin D 0.5mcg
0%
Calcium 143mg
10%
Iron 0.9mg
6%
Potassium 455mg
10%
Vitamin A 63.7mcg
8%
Vitamin C 12.8mcg
15%
Vitamin E 1.3mg
6%
Vitamin K 10mcg
8%
Thiamin 0.2mg
15%
Riboflavin 0.1mg
8%
Niacin 3.4mg
20%
Vitamin B6 0.2mg
10%
Folate 69.1mcg
17%
Vitamin B12 0.1mcg
4%
Biotin 1.5mcg
6%
Chloride 174mg
8%
Pantothenate 1.2mg
20%
Phosphorus 164.7mg
15%
Iodine 0.7mcg
0%
Magnesium 49.7mg
10%
Zinc 1.1mg
10%
Selenium 4.1mcg
8%
Copper 0.1mg
10%
Manganese 0.2mg
8%
Chromium 0mcg
0%
Molybdenum 5.3mcg
10%
* The % Daily Value (DV) tells you how much a nutrient in a serving of food contributes to a daily diet. 2,000 calories a day is used for general nutrition advice.
Ingredients
Whole Yellow Corn, Avocado, Lowfat Plain Greek Yogurt (pasteurized Milk, Skim Milk, Whey Protein Concentrate, Milk Protein Concentrate, Live Active Yogurt Cultures (acidophilus, Bifidus, L. Bulgaricus And S. Thermophilus), Enzymes, Vitamins A, C, D, E), Parmesan Cheese (milk, Cultures, Salt, Enzymes), Lime Juice, Cilantro, Chili Powder.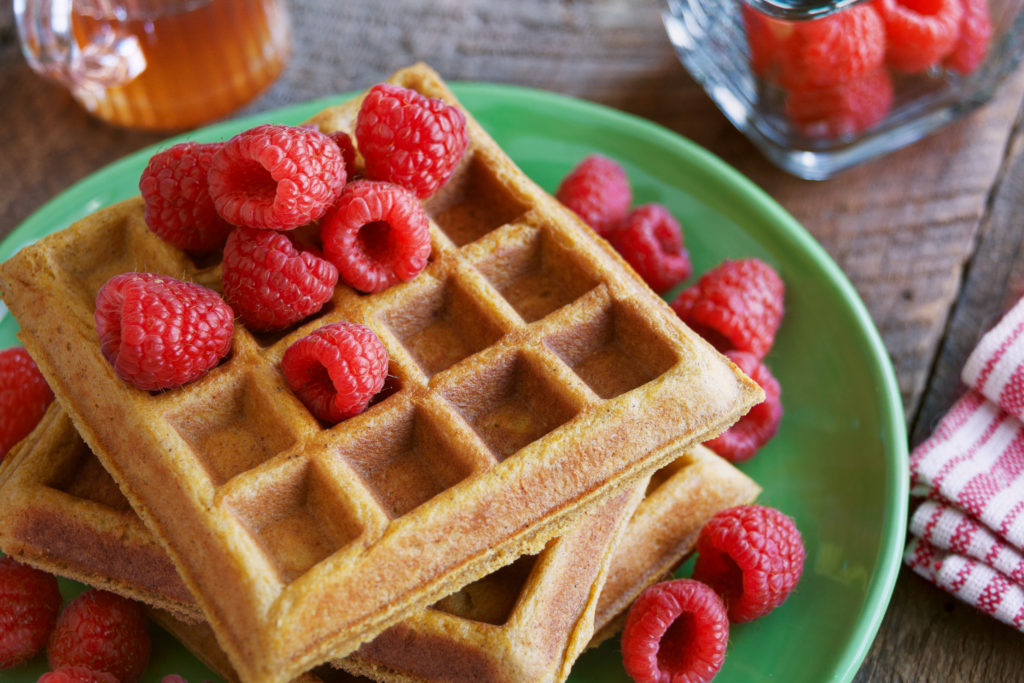 Even if brunch is closer to lunchtime for you, few of us are eager to roll out of bed before the sun to start cooking for a host of people. Fortunately, there's a host of options for offloading most of the workload onto the night before so you can sleep in and serve your guests an incredible meal too.