If you have not gotten on board the no-knead bread train yet, hop aboard, Cassidy. It's gorgeous. Crackly, chewy, fragrant, yeasty goodness and it won't take up more than 10-15 minutes of your day. That being said, it's a unique beasty, and the rules vary a bit, so we tested the stuffing out of this recipe to give you some tips for wiggle room.
You can kinda use whatever wheat flour you've got kicking around. You need a good proportion of gluten in the flour to make it work, though. Here are two other flour configurations that work:
3 cups all-purpose flour (which is not as good for you, but has enough gluten and most folks have in their cupboards)
3 cups whole wheat flour + 1 Tbsp. vital gluten (which is better for you, if you can source vital gluten)
You cannot cheat the rising time. When we say 12-15 hours, we mean "15 hours is better, but you can get away with 12." We tested as low as 8, but because the method is dependent on a long, slow rise, you'll end up with a flat, sticky ball that won't hold its shape and which will flatten out in baking if you skimp on the initial rise.
Dutch ovens are ideal, but can be done without. Baking in a Dutch oven helps keep the moisture trapped in, steaming the crust as it bakes for a gorgeous, crackly crust. It you don't have one, however, you can bake your boule at the same temperature on a pizza stone or baking sheet. For the best crust, DO NOT open the oven until you hit the end of the baking time.
By all means, play with the flavor. This recipe is crazy flexible. Just remember that ingredients with added sugar or added salt change the nutritional balance of the loaf. Here are a few (not yet tested!) ideas of things you can use instead of the spices and cranberries:
Cinnamon Raisin: 2 tsp. cinnamon, ¾ cup raisins
Moroccan Fig: 1 tsp. curry powder, 1 tsp. ras el hanout, ¾ cup dried figs, chopped
Sweet Potato Spice: 2 tsp. pumpkin spice, ¾ cup sweet potato, cooked al dente, cooled and diced
Cheesy Onion Garlic: 2 tsp. nutritional yeast, ½ cup onion, diced, 4 cup garlic cloves, chopped
Ingredients
1½ cups whole wheat flour
1½ cups bread flour
½ tsp. active dry yeast
1½ tsp. salt
1 tsp. cinnamon
½ tsp. nutmeg
½ tsp. ginger
¾ cup juice-sweetened dried cranberries
¾ cup skim milk
¾ cup water
Directions
Whisk together the flour, yeast, salt, spices and cranberries.
Stir in the milk and water until the dough forms ball.
Cover the bowl with plastic wrap or a damp towel and let rise in a warm spot (70ºF) for 12-15 hours.
After the dough has risen, scrape it out of the bowl and onto a lightly floured surface. Fold it a couple of times, then shape into a boule. Place boule on parchment paper and return to your bowl, again covering bowl with plastic wrap or a damp towel. Let rise for 1-2 hours. (Cooler temps need longer proof times.)
While the boule is resting, place your Dutch oven, if you have one, in the oven and preheat to 400ºF.
When boule is done proofing and oven is hot, score the top of the bread fairly deeply with a very sharp knife. Transfer the boule on the parchment paper into the Dutch oven and cover with the lid. Bake for 45-50 minutes, keeping the oven closed during the full bake time.
Let cool for at least 1 hour before cutting and serving, warm or cool.
Nutrition Facts
12 servings per container
Serving Size 71G
Amount per serving
Calories

145

% Daily Value*
Total Fat

1g

1%
Saturated Fat

0g

0%
Trans Fat

0g

Polyunsaturated Fat 0.5g
Monounsaturated Fat 0g
Cholesterol

0mg

0%
Sodium

300mg

13%
Total Carbohydrate

31g

11%
Dietary Fiber

2g

7%
Total Sugars

6g

Includes 5g Added Sugars
10%
Sugar Alcohol 0g
Other Carbohydrate 21g
Protein

5g

Vitamin D 0.2mcg
0%
Calcium 30.4mg
2%
Iron 0.8mg
6%
Potassium 150mg
4%
Vitamin A 9.5mcg
2%
Vitamin C 1.1mcg
2%
Vitamin E 0.2mg
0%
Vitamin K 0.4mcg
0%
Thiamin 0.1mg
8%
Riboflavin 0.1mg
8%
Niacin 1.9mg
15%
Vitamin B6 0.1mg
6%
Folate 17mcg
4%
Vitamin B12 0.1mcg
4%
Biotin 1mcg
4%
Chloride 21.2mg
0%
Pantothenate 0.2mg
0%
Phosphorus 91.2mg
8%
Iodine 3.5mcg
2%
Magnesium 27.2mg
6%
Zinc 0.6mg
10%
Selenium 16.6mcg
30%
Copper 0.1mg
10%
Manganese 0.8mg
35%
Chromium 0mcg
0%
Molybdenum 0.3mcg
0%
* The % Daily Value (DV) tells you how much a nutrient in a serving of food contributes to a daily diet. 2,000 calories a day is used for general nutrition advice.
Ingredients
Wheat Bread Flour, Skim Milk, Whole Wheat Flour, Water, Fruit Juice Sweetened Dried Cranberries (cranberries, Apple Juice Concentrate, Sunflower Oil), Salt, Ground Cinnamon, Yeast, Ground Nutmeg, Ginger.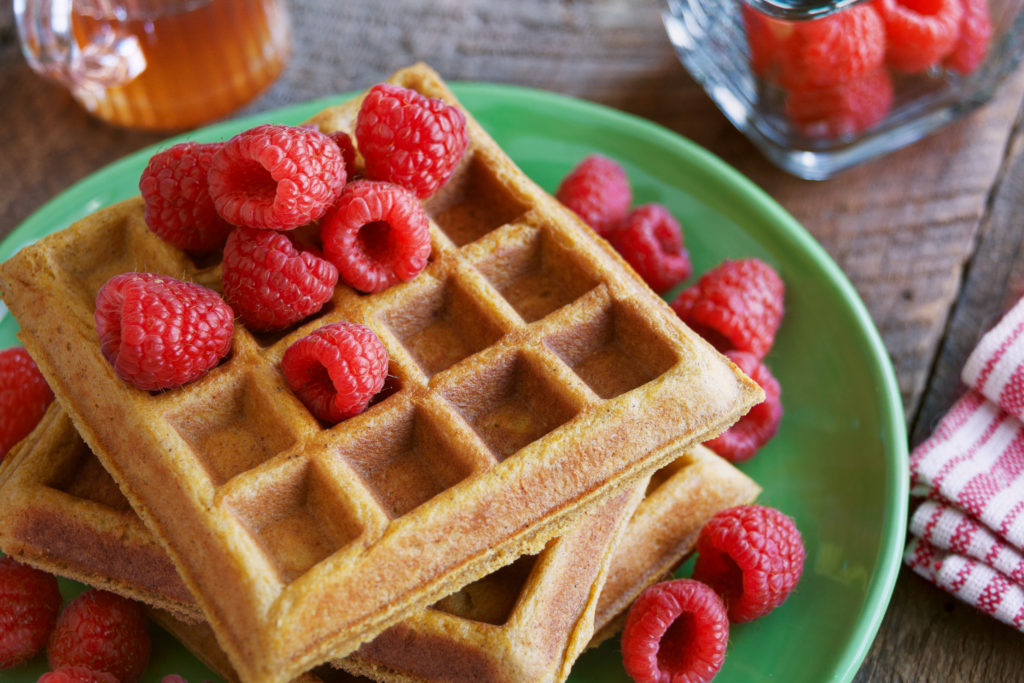 Even if brunch is closer to lunchtime for you, few of us are eager to roll out of bed before the sun to start cooking for a host of people. Fortunately, there's a host of options for offloading most of the workload onto the night before so you can sleep in and serve your guests an incredible meal too.